In the exhibition "On earth, as it is in heaven and something in between" Petri Hytönen looks at the never-ending conflict between the spiritual and the carnal. The exhibition has been inspired by church painting, in which illustrated narratives are played out amid architecture. Hytönen uses hundreds of hand-painted, cut-out watercolour-paper dolls hanging in space to create a collage of scenes from the saga of humanity that illuminate difficult, always topical, existential questions. He has painted angels, demons, heavens and hells, and standing somewhere in between them is the human being, a perplexed figure with many faces.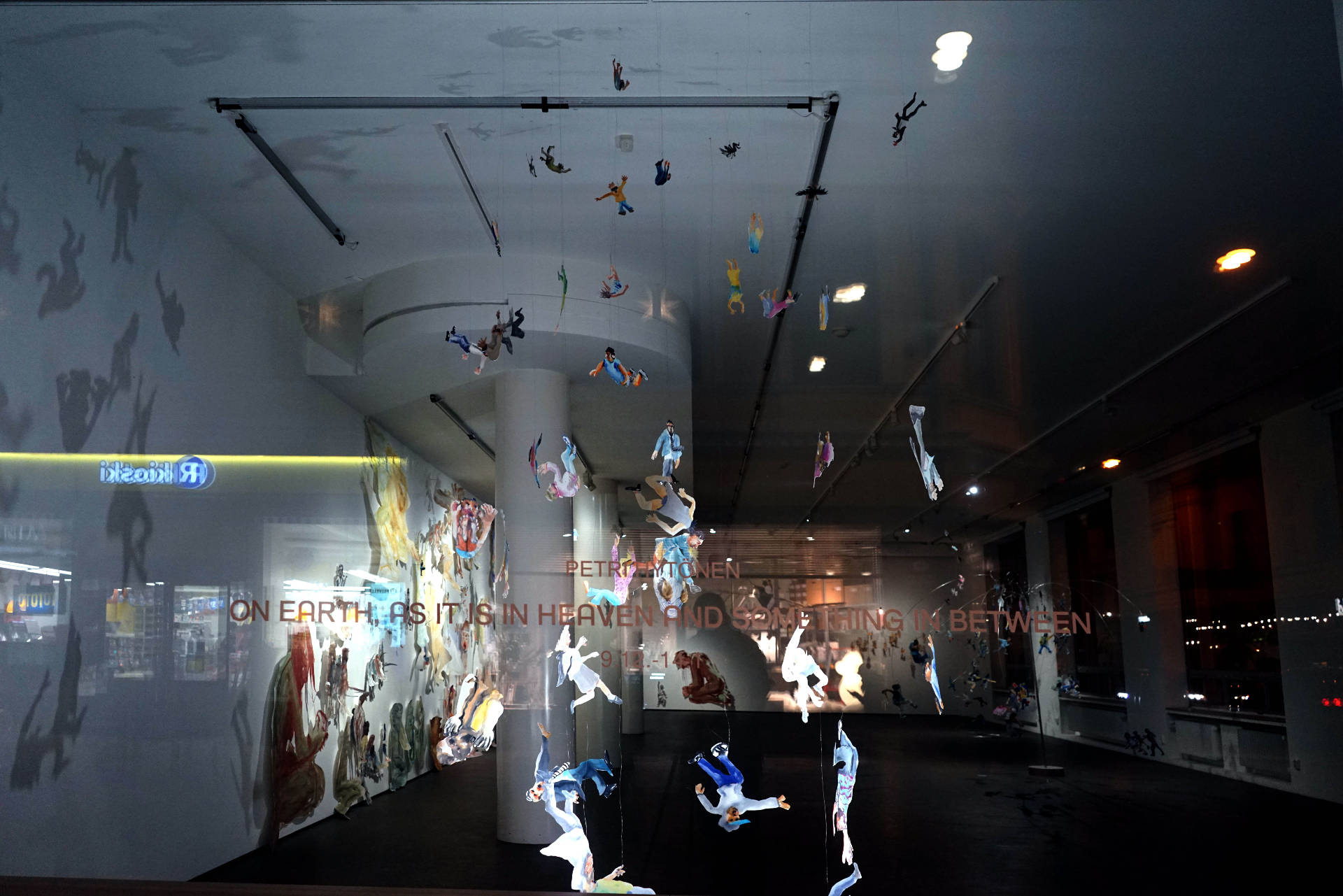 In his artistic work Petri Hytönen has often depicted people swimming, on swings or flying. His "floating" people are bound neither by nature's laws nor legal norms; they become more or less an incarnation of free human beings and their innermost dreams and fantasies. As a process Hytönen's painting is very free-flowing, too. He is a fearless artist who moves without prejudice around the various domains of painting. He sees its potential and again and again demonstrates that the limits of painting are constituted solely by the painter himself.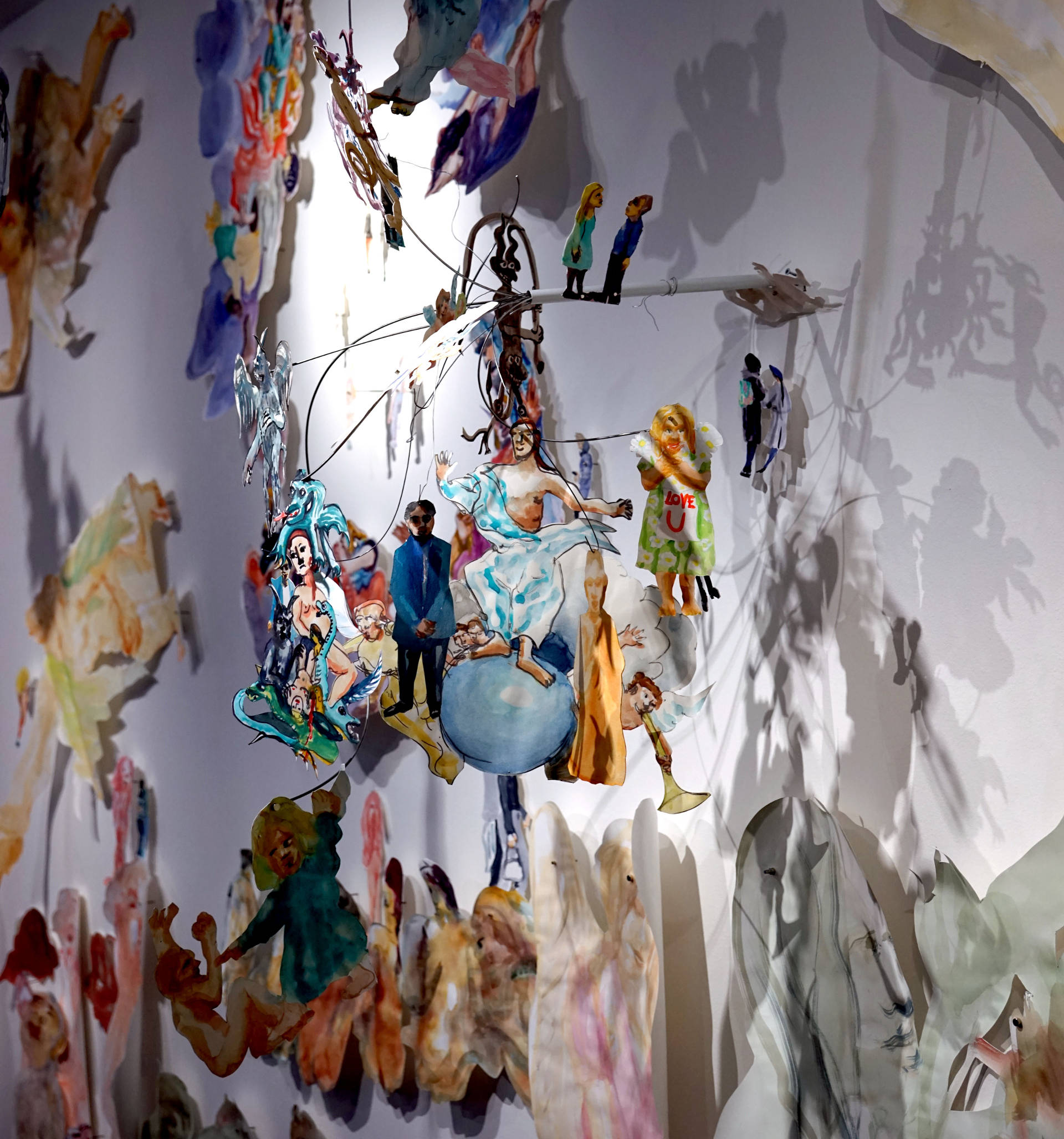 He mingles watercolour, spray painting, drawing and photography with humour, psychedelia, nature, details from everyday life, and art-historical references. For "On earth, as it is in heaven and something in between" he has made three-dimensional, mobile-like, modular watercolour paintings in which he foregrounds human beings and the moral questions with which they are constantly confronted.
Hytönen systematically bursts the bubbles that separate individuals construct around themselves. While one of them has the wind beneath his wings, another plummets straight down towards the unforgiving earth. A virtually invisible, but central character in the exhibition is the caveman; that primitive forefather who lives on in us from generation to generation. Despite the fact that human beings develop and advance by creating traditions, cultures, religions and moral precepts, still they always carry with them the animal, the creature they really are, with all its physical and emotional desires.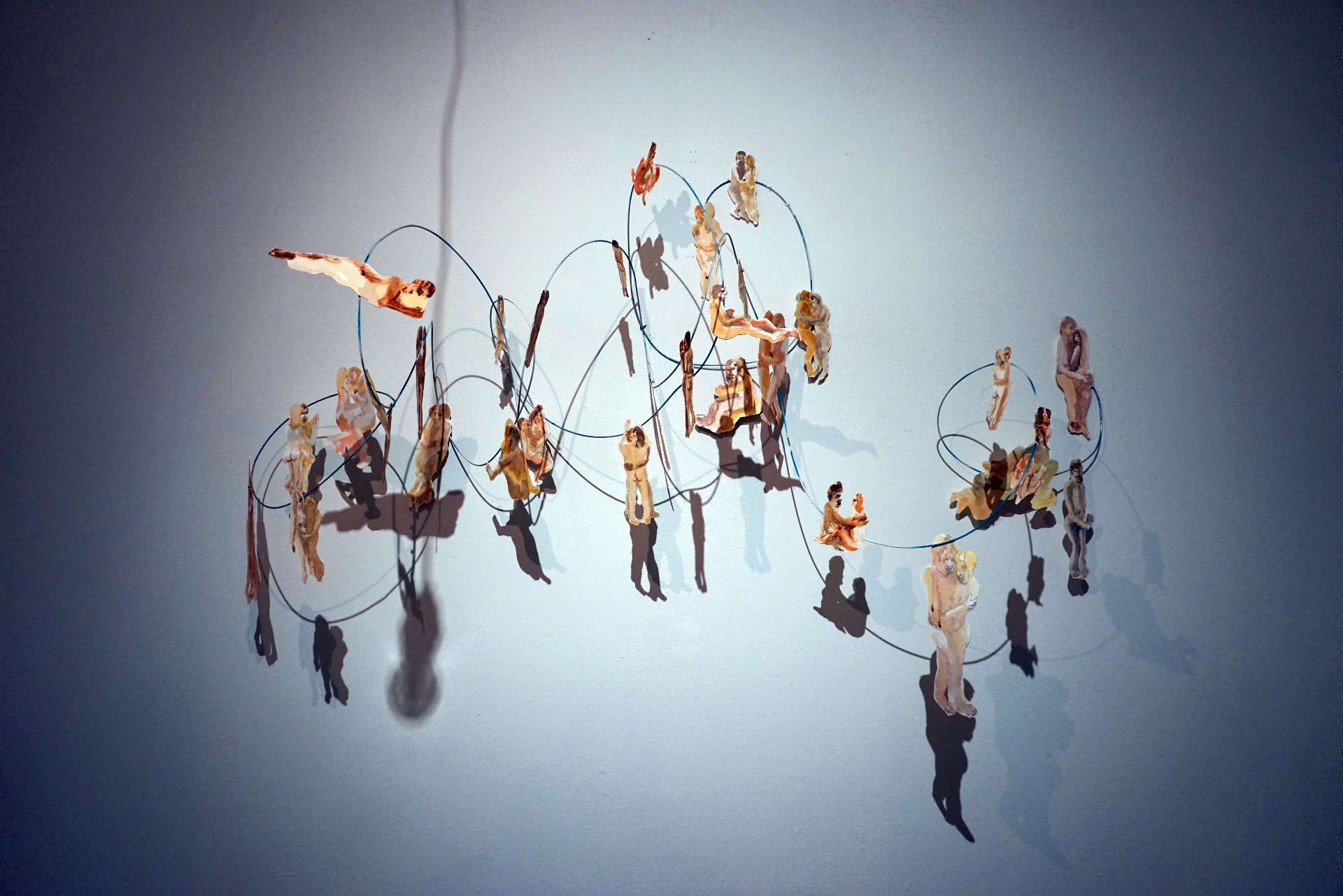 The exhibition has been created in parallel with the ceiling painting Limbo, a site-specific work commissioned for Sinne's office. The public is welcome to come and inspect the newly installed painting throughout the exhibition period.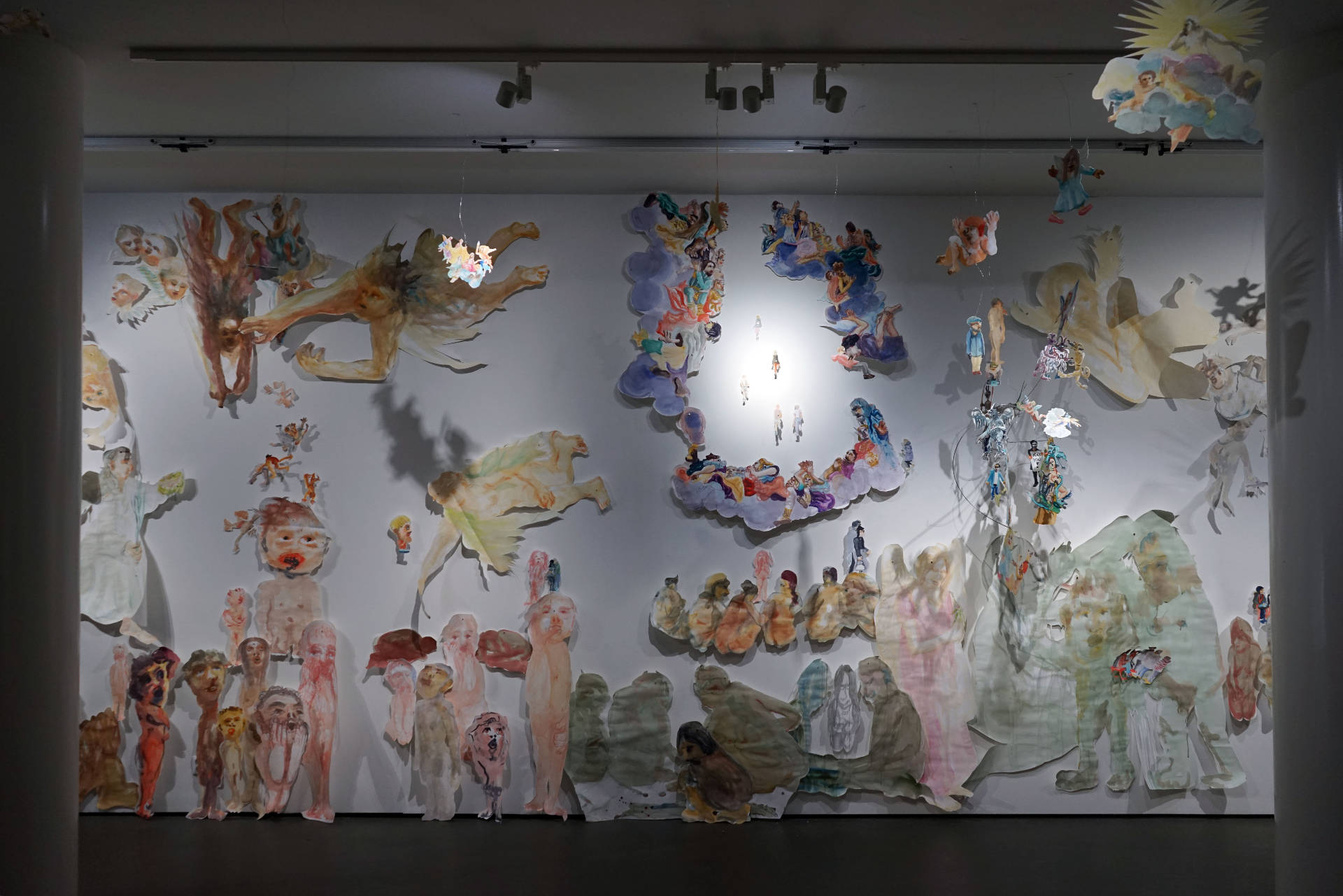 Petri Hytönen (b. 1963) lives and works in Porvoo. He graduated with an MFA from the Academy of Fine Arts, Helsinki in 1988, and worked there as a lecturer in painting in 2009-2014. He is a founding member of the JoyMen artists' group and of Galleria Rankka. In 2001, he received the Carnegie Art Award's Third Prize. He has had numerous solo exhibitions and taken part in group exhibitions in Finland and abroad. His work is represented in collections including: EMMA, Gothenburg Museum of Art, Helsinki Art Museum, Malmö konstmuseum, Nordic Watercolour Museum, Saastamoinen Foundation Art Collection, Finnish National Gallery – Kiasma, Pro Artibus Foundation, Uppsala Art Museum and the Wihuri Art Collection.
Markus Åström
Curator